Degree requirements to apply for a college degree and a monthly salary of only 1000-1500 yuan positions, graduated from the Yunnan Nationalities University Chinese Language and Literature of Xu Qinxin heart full, only to the students as much competition in this position six, she was slightly Deng
a bit; and only primary education, Zou Jianliang were slowly compared with the recruitment business, where the monthly wage of 2,500 yuan, not food, accommodation and every time he posts, "a veto."
This is the day before yesterday morning in Kunming, Center for Human Resources and South Dam in contrast to the human resources market, in the post "labor shortage" in the background, social status of migrant workers under the employment pressure has been much higher than college graduates.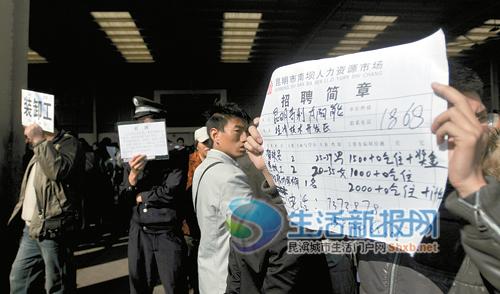 Difficult to recruit migrant workers a monthly salary of 2500


Foreign enterprises: the number of how many to move


The first month is the human resources market Nanba busiest time, year after year.
The southwestern provinces of the largest special employment of migrant workers, and now every day, attracted more than 5,000 people entering employment of migrant workers, not including the market, thousands of job seekers.
However, despite the "popular so strong," public employment business or invariably lament: too difficult to recruit people!


February 14, Kunming, China Bay Photoelectric Technology Co., Ltd. with a capacity of 100 people came to recruit the market's requirements for front-line technicians, "junior high school and higher education", the treatment is "a monthly salary of 1,000 to 1,500 yuan, food, accommodation
"liberal thought recruitment requirements and better treatment will be popular, but, not even one day of enrollment, most job seekers are looked at U-turn left.
Indeed, with those from Guangdong, Jiangsu, Fujian, frequently out of business, "food, accommodation, a monthly salary of more than 2,500" conditions compared to the treatment is not very attractive.
This can be very anxious to recruit staff, led a discussion with the company back to yesterday, they immediately raised the wages of 300 yuan.
"One morning, we signed only 10 people. Feeling is still quite labor intensive, a lot of migrant workers a higher wage demands." Laments the staff.


The migrant workers to compete for limited resources, all the way to Queensland companies recruit people outside the province is Maozulejin, food, accommodation, purchase of five insurance payments, paid annual leave, reimbursement of travel fares, etc as they open
a common treatment, in addition to salary increases have played, set the entry incentives, paid training, novice and other "tricks."
MasterCard electronics factory in Dongguan, pictorial publicity "month net income" column, the original "2000-2800 yuan" is clearly a red pen to "2600-2800 dollars"; SONY Digital Products (Wuxi) Co., Ltd. In addition to "
monthly income of 2400-3000 yuan ", but also played a special incentive to sign the entry, that" Where the February 8, 2011 -2 between 25 and working a full month into the company's employees additional wages paid in March
500 yuan. "
"Entry awards usually have, but only one or two hundred, 500 reward for the effort is deliberately set up to recruit people after the Spring Festival." The company's staff said that even so, two days down, recruiting is still not particularly desirable effect
He said: "How much we wanted to move!"


Migrant Workers: can not find work to worry about


More worried about not hire recruitment companies, the former more and more migrant workers come to work and not be panic.


"Last year, the twelfth lunar month to resign my second home, at home, spent half a month, enough of it out to find a job." Guest house in the town of Cave Xuanwei Township, Zou Jianliang 22 years old, he smiled and said that last year he
Wang Jin Jiang Jiumu in Fujian Industrial Park to work, after a month can get 2,800 yuan Baochibaozhu wages, but years ago he quit his work as "not afraid of no living."


"Jiangsu has a U.S. clothing company mountain child, bidding and 200 general workers, the monthly wages of more than 2500; Wuxi has a e-business, bidding and general workers, treatment of close to 3,000 dollars, and also food, accommodation, more than 500 awards
; have a electronics factory in Zhongshan, also more than 2500 ... ... "Zou Jianliang out of breath a few companies about ten his fancy, but he did not sign a contract with any company:" wait and see. this year to recruit people
seems difficult than last year, two days a lot of companies have increased wages, perhaps even to mention it a few days. "


If you go outside the province to work, food, accommodation expected monthly salary of 2,000 yuan or more after the almost uniform standards of migrant workers.
Luo money from friends, a high-production years ago in parts of Zhejiang factory workers, salaried by piece rate, more than 2,500 yuan per month, room and board are in the factory; from Chuxiong Xing Zhi book years ago to work in Foshan, Guangdong,
done in order of security, ceramic engineering, 43 years old, he will get 3,000 yuan a month.
Both said that if the case or go to work outside the province, the treatment can not be lower than the previous year's standards.